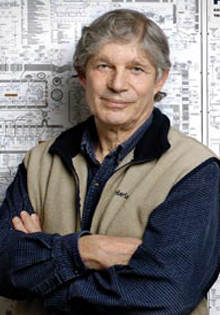 Reinventing The Sacred
Science, Reason, & Religion

7PM Thursday, April 23, 2008
Purchase Tickets

Season Tickets for this event are available through our office at 503-232-2300 or online here! A season ticket represents a 40% savings off single ticket prices.
Single Tickets for this event are available at Ticketmaster or PCPA Box Office.
Dr. Stuart
Kauffman

Biocomplexity and Informatics
Dr. Kauffman moved to Calgary, Alberta in 2004 after being appointed director of the IBI and professor to the departments of Biological Sciences and Physics and Astronomy in the U of C's Faculty of Science. Shortly after, in May 2005, he was named an iCore Chair in Biocomplexity and Informatics (iCore, or Informatics Circle of Research Excellence, is a program established by the Government of Alberta to foster world-class, university-based research).
Originally a medical doctor, Kauffman is an emeritus professor of biochemistry at the University of Pennsylvania, and a seminal member and an external professor of the Santa Fe Institute. Also a MacArthur Fellow and a Trotter Prize winner, Kauffman has published three major books, among them is At Home in the Universe: The Search for the Laws of Self-Organization and Complexity (1995), which the Oxford University Press says "weaves together the excitement of intellectual discovery and a fertile mix of insights to give the general reader a fascinating look at this new science − and at the forces for order that lie at the edge of chaos."
Complexity Theory
Emergence
Self Organizing Systems
I would like to begin a discussion about the first glimmerings of a new scientific world view — beyond reductionism to emergence and radical creativity in the biosphere and human world. This emerging view finds a natural scientific place for value and ethics, and places us as co-creators of the enormous web of emerging complexity that is the evolving biosphere and human economics and culture. In this scientific world view, we can ask: Is it more astonishing that a God created all that exists in six days, or that the natural processes of the creative universe have yielded galaxies, chemistry, life, agency, meaning, value, consciousness, culture without a Creator. In my mind and heart, the overwhelming answer is that the truth as best we know it, that all arose with no Creator agent, all on its wondrous own, is so awesome and stunning that it is God enough for me and I hope much of humankind.


Kauffman has written several books:

Origins of Order
At Home in the Univers
Reinventing the Sacred